Caregiving > Nutrition and Diet
Food is not only essential to sustain life, but is also associated with caring and sharing good times with family and friends. Food has important physical, social and emotional significance and whether you are suffering from mesothelioma or are a caregiver for someone diagnosed with mesothelioma, it is beneficial to plan meals with these issues in mind.
Many caregivers worry about how they will be able to meet a loved one's nutritional needs when they become ill, or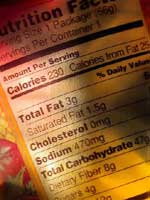 are distressed when they prepare a nourishing meal only to have it rejected because of the patient's lack of appetite or inability to tolerate certain foods. The "Nutrition and Diet" section offers ways to help reduce caregiver stress, prepare healthier and more balanced meals for themselves and their loved ones and make mealtimes more enjoyable for everyone.
If possible, meals should be planned so they may be shared with the patient. In this way, food satisfies not only physical, but emotional needs as well. The caregiver can plan a heavier meal for themselves, followed by a light, shared dessert. Breakfast may be a shared meal of toast, cereal, fruit or yogurt with only a difference in the quantity consumed by the caregiver and the patient.
It is important to recognize that nutritional needs may change during the course of an illness, and it is up to the caregiver and the rest of the health care team to adapt accordingly. It is equally important that the caregiver's need for a well-balanced, nutritious diet be met.
By planning ahead, the caregiver can relieve some of the stress associated with shopping for and planning meals for the patient. Following are some hints which may be helpful:
Stock the pantry and freezer with the patient's favorite foods so that it won't be necessary to shop as often. Include foods that the patient will enjoy even on days when they may not be feeling their best.


Cook in advance and freeze foods in meal-size portions.


Talk to relatives and friends about helping with shopping and cooking, or ask that a relative or friend take over these jobs.


Talk to the patient's doctor, nurse or dietitian about any concerns regarding the patient's nutritional needs. A dietitian can help plan meals or develop a grocery list taking into consideration any nutrition problems the patient may have.
The value of good nutrition for any mesothelioma patient, whether they have chosen to be treated aggressively, or whether they have chosen palliative care, can not be stressed enough. In either case, appetite may be adversely affected. By eating well, they may be able to avoid losing weight, or to regain weight that was lost. In addition, good nutrition is important in allowing the body to fight infection or in combating the side-effects of treatments such as surgery, chemotherapy or radiation.
Balanced nutrition means eating a variety of foods that provide necessary nutrients to maintain health. Since the nutrient needs of each patient may vary, it is encouraged that individuals work with their doctors or a nutritionist to set goals specific to their particular circumstances. With any serious illness, the goal of good nutrition
is to prevent or reverse nutritional deficiencies, minimize the side effects of the illness and/or aggressive treatments and maximize quality of life.
Following are some general guidelines of what various nutrients provide in the diet.
Protein: Protein helps ensure growth, repairs body tissues damaged by surgery, chemotherapy and/or radiation, and helps to maintain a healthy immune system. Most patients require additional protein during and after aggressive treatments to help heal tissues and lower the risk of infection.
(Click here for ways to increase protein in the diet.)


Fats and carbohydrates: Fats and carbohydrates help supply the body with the majority of its daily caloric intake. Each patient's age, frame size and level of physical activity will determine what is considered normal for them. (Click here for ways to increase calories in the diet.)


Vitamins and minerals: Vitamins and minerals help ensure growth and development, in addition to allowing the body to use the calories supplied by the foods eaten. While it is not always necessary to supplement vitamins and minerals during times when one is maintaining good eating habits, it may become more important when the challenges of being ill or undergoing treatment make eating difficult.


Water: Water is essential for life. Without enough water, the body becomes dehydrated. Discuss how much water you should be drinking each day with your doctor or nutritionist.
Obviously, patients with mesothelioma will be faced with special dietary needs at various stages of their disease or their treatment, and only their health care team should make decisions as to what type of diet should be followed and over what length of time. Doctors, nutritionists and patients should work together to develop a suitable nutrition plan. Patients who are already following a special diet for other health problems such as diabetes or high cholesterol may require a diet modified for their particular needs. Following are several types of diets which may apply at various times:
Commercial Nutrition Products
There may be times when diet may not provide enough calories and proteins to meet the body's needs. At these times, the doctor may recommend a commercial nutrition supplement. Products such as formulas and instant breakfast powders are usually readily available at the supermarket or drug store, as are products which can be added to any food or beverage to help boost calorie content. These supplements need no refrigeration until they are opened, so they can be available for use at anytime.
Note: Most commercial nutrition supplements contain little or no lactose, however, it is important to check the label if you have a lactose intolerance. Check with your doctor or dietitian for the product he/she feels is best for you.
Click the following links for:
Mesothelioma Aid Support Topics
Financial Planning for Cancer Patients
Free Information Packet on Mesothelioma
If you would like to receive a FREE information packet on mesothelioma**, or if you have a comment or question, please complete the following:
**(Packet includes information on treatment, clinical trials, cancer links, how to access legal and financial resources, and frequently asked legal questions with answers provided by Cooper, Hart, Leggiero & Whitehead, PLLC). By filling out the above form you consent to being contacted by Cooper, Hart, Leggiero & Whitehead regarding potentially retaining legal services.